SupplierPlus
Category: Working capital management
Founded: June 2015
Products: Buyer-led payables finance
Overview: With headquarters in Estonia, SupplierPlus operates a multi-financier, currency-agnostic supply chain finance (SCF) platform, focused on expanding SME access to finance. With its 30-plus FTEs across six countries, it operates SCF programmes in the Baltics and other Central and Eastern Europe (CEE) countries, working with suppliers from all over the world.
SupplierPlus enables buyers to extend payment terms while offering their suppliers access to what it says is affordable, flexible and easy financing. Founded in 2015 as a crowdfunded invoice financing platform (Inwise), it launched the first multi-financier SCF platform dedicated to CEE in 2019. The platform brings together high-quality buyers, their suppliers, and financiers seeking higher risk-adjusted returns.
Whereas global banks tend offer SCF only to the largest corporates, SupplierPlus says it views it as a powerful solution to bridge the global SME finance gap. The company deliberately targets SMEs (both buyers and suppliers) with granular and micro supply chains in industries where deferred payments are common. The platform enables SupplierPlus to focus on releasing working capital for buyers and suppliers alike, without using it as leverage to cross-sell other products.
The lack of stable provision of SCF to SMEs in the Baltics and wider CEE is particularly acute: global banks and larger platforms are less established in the region, and are often unwilling to deal with smaller buyers and suppliers from these countries.
SupplierPlus addresses these challenges with its:
unique focus on finance, market development and education in the CEE
commitment to onboard and service any supplier (subject to successful compliance checks), regardless of size, geography or volume (achievable with elevated efficiency by integrating the latest KYC/AML solutions into onboarding process)
ability to finance any invoice a buyer is willing to confirm (the smallest invoice ever financed through the platform was €0.50)
SupplierPlus is a full-service SCF solution, handling origination, contracting, onboarding, including KYC/AML checks, servicing, and ongoing support. The platform benefits from stable cloud-hosted infrastructure, a simple 'click-lite' UX, advanced data encryption, secure blockchain-based transaction monitoring, flexible APIs, and machine/human readable data interfaces.
Clients: Currently manages SCF programmes for 97 buyers across the CEE, financing suppliers through 13 financiers.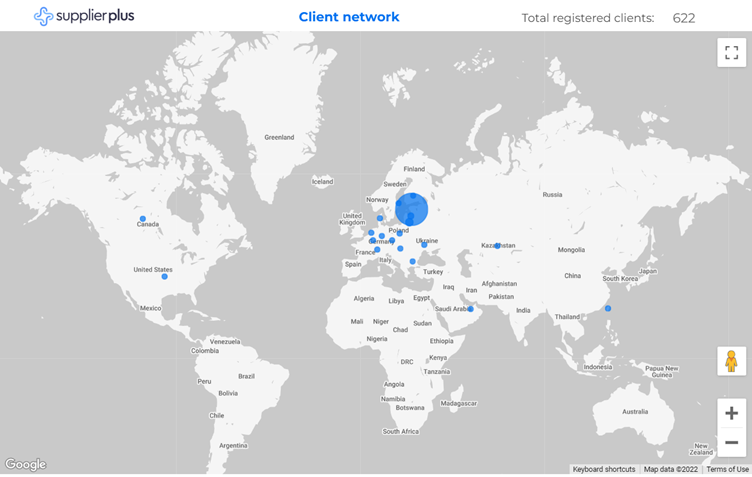 Revenue: Confidential
Active region(s): Central and Eastern Europe
Partners: The platform uses KSI Blockchain timestamping by Guardtime, legally binding electronic confirmations (through integrations with SK ID Solutions and eID Easy), up to qualified electronic signatures, in line with eIDAS Regulation. For onboarding, SupplierPlus uses automated KYC/AML checks to screen suppliers to banking industry standards using national business registries as well as reliable database aggregators such as Dun & Bradstreet. SupplierPlus uses Veriff's online identity verification solution to verify suppliers' legal representatives, and iDenfy's real-time compliance monitoring.
Employees: 32
Funding: Confidential
Ownership: Co-founders: Kaspar Kägu, Peeter Puppart, Indrek Vilms; other shareholders are its employees
Elevator pitch: "SupplierPlus operates a full-service SCF platform for buyers, suppliers, and financiers. Launching an SCF programme is a complex undertaking, so SupplierPlus is designed for easy and free implementation for buyers, suppliers and financiers, achieving fast 'time-to-wow'. As a holistic SCF solution, SupplierPlus caters to all stakeholders' technological, legal, and operational needs.
"Most bank-led SCF arrangements are limited in the range of buyers and suppliers they can finance, focusing on larger volumes in selected geographies. SupplierPlus is an unconstrained intermediary that enables unparalleled flexibility and range of serviceable clients.
"What makes SupplierPlus unique is its state-of-the-art technology and extensive localisation, delivering combined compliance, security and agility."
Website: www.supplierplus.com
Email: [email protected]
Phone:+372 600 2420
TMI view: With deferred payments a common issue for SMEs in the Baltics and wider CEE, provision of targeted SCF bypasses limited regional bank appetite and capacity, delivering much-needed working capital respite for firms operating here.
Verdict: It's an SCF platform that goes straight to the heart of a regional issue and has the power to make a difference for businesses working both in and beyond the Baltics and wider CEE.